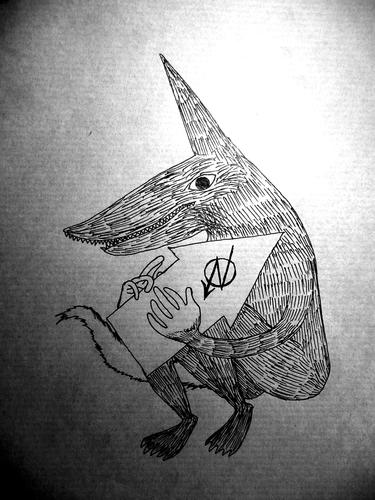 On Saturday, June 27, the Green House (Žalias Namas) squat/social centre in Kaunas was evicted. It had operated during the past half year in one of the abandoned wooden houses (which happened to be green).
While a couple of activists and guests were preparing dinner at the centre, a person responsible for the project of demolishing the house came and ordered them to move out. When the order wasn't immediately obeyed, he called the police. The squatters were ordered to move out within a day or face legal prosecution. Soon the police came again and shortened the term: you're on other peoples' property and have to start moving now or be arrested. This time, due to the low number of people present, they started abandoning the house. The owner promised to keep an eye on the place afterwards and ensure that no one else is able to get in.
Thus quickly started and came to an end the first, but definitely not the last encounter between squatters trying to rejuvenate Kaunas' abandoned buildings and capital aimed at limitless growth (the house and its territory belong to big business). The official owners state that they can't allow usage of a house in an "emergency condition" and express concerns about the possibility of fire. Because an unlocked wooden house is much safer when no one looks after it?
The wooden house, built in 1920, heated by four authentic old style clay furnaces and previously home to two families, has been given a sentence: it is to be demolished in autumn in order to make space for a luxurious apartment building. These plans were confirmed disregarding the value of the old wooden architecture or the possible impact of construction work and invasion of rich people on the local community.
The centre's activists had developed good relations with the neighbors and received their support, which, unfortunately, wasn't enough when trying to officially protest the demolition of the house and subsequent construction of a high-rise building. The municipality stated that all the documents of the project are in order.
Previous to becoming a social centre, the Green House had been abandoned and slowly decaying for several years. The open social centre hosted an infoshop, a freeshop, organized free suppers, non-commercial concerts, bicycle workshops, film screenings, lectures and discussions. On the first days of May the international "Kaunas Karnival", dedicated to the issues of the right to the city and autonomous spaces, took place there. The "Green House" was being visited by students from the nearby dormitory, musicians, neighbors, families with children, a couple of homeless people, people from Kaunas and other cities in Lithuania. It was being used as a free crashing space by many travellers.
Although short-lived, the Green House centre showed the necessity and fertility of such a space. In Kaunas, which is constantly tormented by inferiority complex and intense emigration, the social centre provided a lot of people with a feeling of meaningful localized activity and the hope of a supportive commonality. Otherwise very mobile activists gathered in one place, each and every guest of the house would express their amazement at "something happening at last". This place added to the creation of Kaunas' myth and encouraged the fight against geographic and social centralisation, when any city or town outside Vilnius is regarded as a desert where only lions and subalterns dwell. The story of the Green House inspires to take further action – organize more publicity around squatting, look for another space for a social centre, fight for legalization of squatting in society's consciousness and law. In this fight, any kind of support is encouraged and welcome.
Because Kaunas lacks a non-commercial social space, where relations not based on economic exchange could be nurtured, and those who seek them would find a safer environment.
Because cities ar full of abandoned buildings and homeless people; even more inhabitants work in poorly paid jobs in order to pay rent, loans, and taxes.
Because in a city full of space old wooden architecture shouldn't be replaced by luxurious skyscrapers, neither should friendly and supportive communities make space for alienating commodified relations.
To join us in the upcoming Right-to-the-Kaunas adventures, drop a line at kaunospiauda@riseup.net or an SMS at +37064509774